Top 5 Winter Tips to keep your Muscles in Good Working Order
Details

Wednesday, 14 November 2018
With the days getting shorter and colder, many people notice their body aches more in the autumn and winter months. Our muscles love heat! Therefore with the low temperature, wind and higher humidity, they often start to show the signs of unhappiness. What is more, many of us try to protect ourselves from cold by hunching and hiding the neck between shoulders. This leads to many more tension related injuries such as headaches plus neck and back problems. When participating in outdoor sports, getting the muscles warm also takes longer so not adjusting your warm-up routine can lead to sporting injuries like muscle strains and ligament sprains.
There are ways to help your muscles stay healthy and prevent injuries. Here are our 5 most recommended tips:
Warm showers – As mentioned before, muscles love heat! A warm shower in the morning or towards the end of the day will bring a soothing sensation to our muscles, preparing them for a busy day ahead or providing a necessary tension release. Combine that with some basic stretches like neck circles or back twists to maximise the results!
Epsom Salt Baths – Having a bath can be the most relaxing part of our daily routine. There is nothing better after the busy day than to lie down in the bathtub and enjoy some peace and quiet in a cosy environment. Adding some Epsom salts to your bath will not only be relaxing but also extremely beneficial for your sore, tense muscles. Epsom salts help to regulate fluid retention and relieve inflammation. They also promote the production of serotonin and reducing the effects of adrenaline, leaving you calmer and more relaxed. You can purchase Epsom Salts right here at the clinic, feel free to pop in or enquire on your next visit.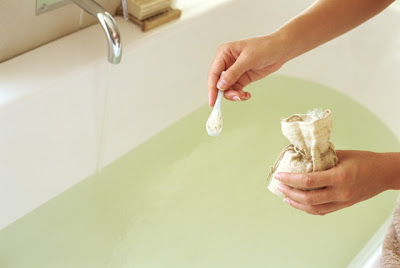 Regular Massage Treatments – Regular massage is a great all-around idea, but in the cold, autumn-winter months, massage is even more desirable for our body. An increase of blood flow, a release of knots and tension, lengthening of tight muscles and fascia and even skin moisturising are just the most important effects of the massage. With physical activity causing a higher risk for the cold muscles, regular massage is a must in order to prevent sporting injuries and keeping the posture right; especially in the fixture stacked winter months! We also have heated massage couches at Fulham Massage & Wellness which is the cherry on the cake, so this our "must do" in winter!
Wearing Scarf and Hat – Hunching and hiding your neck is a bad habit that many people fall into when they are starting to feel cold. Freezing weather and piercing cold winds often makes us want to shrink inside our clothes. This can cause the muscles around our shoulders and neck to tighten up, leading to discomfort and even headaches. Wearing hat and scarf can prevent the cold penetrating our body and it protects the body heat from escaping.
Basic Body Stretching – Waiting for the tube to arrive? Standing in a queue? Taking a shower? Or simply watching TV? Many of the stretches can be performed in the middle of the day. Time is of the essence for many Londoners so here are some examples of the stretches you can do no matter where and when:
Shoulder shrugs
Neck circles
Back twists
Healthy muscles in the winter months help people to stay calmer, at ease and more relaxed. This not only improves your quality of life but also minimises the risk of getting ill. There are numbers of other benefits of looking after our body in the winter months like better skiing performance or simply having more enjoyable and pain-free Christmas! If you have any questions or need further advice on how to keep your muscles happy, give us a call on 02037949760! We are here to help!